The story behind an interior – Project Oosterzele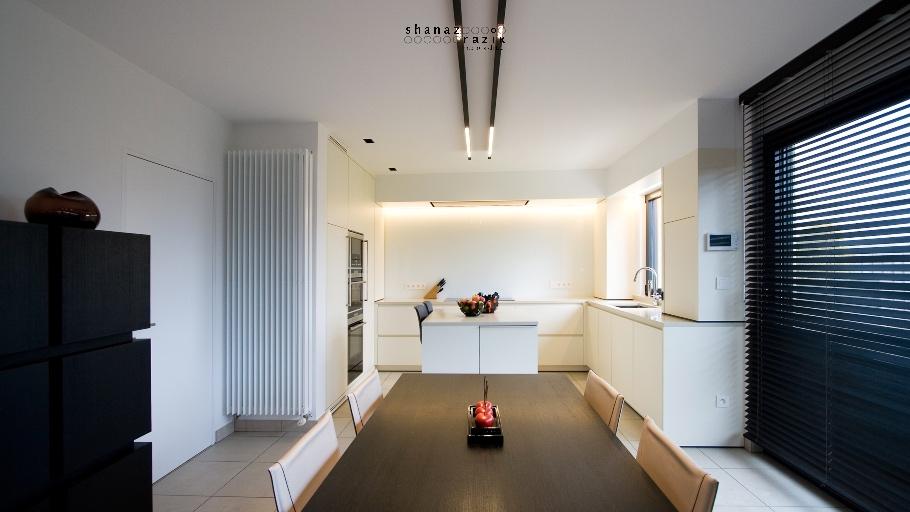 Mid-February of last year, potential clients from Oosterzele contacted me. They were looking for an interior designer near Oosterzele to design and coordinate the renovation of their living room and office space.
A week after our acquaintance as promised they let me know that they wanted to work with me. The project was also expanded to include the kitchen, dining room and entrance hall.
The client brief was for a streamlined and warm interior. To a red yet calm interior while maintaining the tiled floor in the kitchen and all utilities connections.
I guided this project over a period of one year, from the initial conversation with the clients, the design, managing the purchases, site supervision and coordination to the accessories.
It was a fascinating journey entailing working with dozens of people. It was as always a challenge to guide everyone and respond to every situation adequately and efficiently. But nothing beats the feeling when I can deliver a unique project that amazes my clients. Just makes my passion for my job greater.
The process of the project – From the beginning to the end
The house had a kitchen that was placed thirteen years ago, which was functional but it did not fit the style of what the clients wished for and nor were the ergonomics optimal.
The new kitchen is more streamlined in its design, lighter in color and matieriaal.
The use of drawers instead of doors, vertical lift doors and telescoping doors provide not only more storage but also easy accessibility for the electrical appliances therefore increasing the functionality of the space. High drawers in the open plan kitchen island next to the dining table provide extra storage space. Current situation makes it possible for the clients to have easy access to all their breakfast needs.
A living space that was formerly dark and lost between the kitchen and the elevated office space has now become much lighter and more pleasant. The modular seating elements provided gives the clients the possibility to spend a cozy evening on their own or give a small party for fifteen odd people, all in their very own living room.
A custom made element forseen with seating options, storage space and lighting, separates office and living space – work and relaxation area.
The old cluttered office space has given way to a new area that is much more stream lined and is more functional and ergonomic. Plug points and network connections are neatly tucked away and there is ample storage provided for books and files. Open niches provide a playful nature between the closed volumes.
Final result: a sleek interior with red as a guideline, extremely satisfied clients and a very proud interior designer.
Click here to learn more about this project – Project Oosterzele
Click here to read the original article in Dutch – Het verhaal achter een interieur project te Oosterzele
Have you got a project for me? Let's talk.
Fields indicated with * are mandatory.